About us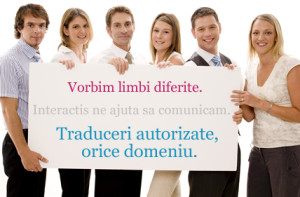 We have been on the translation market since 2002, growing step by step, aiming to become an example, setting trends that were copied by our competitors later on. We currently have three offices in Iasi and collaborations all over the country and worldwide.
We work for major companies in Romania, as well as for individual customers. What recommends us is reliability, adaptability, highly qualitative services, to sum up, what each and every customer is looking for. We offer fast and competent solutions to our clients requests, clients who choose QUALITY instead of amateurism.
We work only with translators with experience, good professionals who know how to make an excellent job. Customers know how important a translation made accurately is and how much can cost an unprofessional service.
Our business has diversified naturally, in order to meet our clients requests. We offer translation services at high standards; we can offer development solutions to companies with foreign or Romanian capital who want either to set a business here or abroad. Tourism and touristic services are also a part of our activity. All this has a common bond: GLOBALIZATION.